I am taking a quick break from Hair Bow week to bring you an AWESOME giveaway! I will get back to the tutorials soon, and I will extend to next week as well, so watch out for more cuteness! Now on to the giveaway

Easter is coming, but who said the kids are the only ones that get the good stuff in their Easter basket?
Wouldn't you love a new iPad mini?

For FREE!?



Of course you do.  And we want to give one to you!  Here's all it takes:
#1) Click on each image below and FOLLOW each web site on Pinterest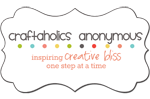 #2) Fill out the form below: